About S-Team
Background
The Golden Age of Taiwan's Fitness Industry
Since 1979, Taiwan's fitness industry has grown vigorously and played an important role in supplying the global fitness equipment. Particularly from 1987 to 1996, the high demands from the American and European countries stimulated Taiwan's fitness manufacturers working together as a complete supply chain. The advantages of low cost and quality stability had attracted many international buyers. Soon Taiwan's fitness manufacturers had reaped large profits and established itself as the global fitness supplying base (1979-2000).
Challenges from China, the World Factory
After China's economic reform, the cheap labour and low land cost has drawn a historic influx of foreign investment. Like many other manufacturers, Taiwan's fitness producers have faced the overwhelming pressure from China, the World Factory. And the global fitness supplying source has also shifted from Taiwan to China, Vietnam or other Asian countries. For a sustainable future, Taiwan's fitness industry now needs to empower itself with innovative concepts for sustainability.
The Future of Taiwan's Fitness Industry
In 2011, Mr. Peter Lo, the President of JOHNSON Health Tech. Co., Ltd., has made great efforts to call for closer cooperation among the major fitness manufacturers in Taiwan. Facing great competitiveness from China, he emphasizes that Taiwan's fitness manufacturers shall work together for a brighter and better future. Moreover, he also points out that cooperation and innovation will definitely help the sustainable development of Taiwan's fitness industry. Thus, he makes the initiative to establish Taiwan S-Team Elite League. Hopefully, Taiwan will become the global high-end fitness manufacturing, research and development hub in the near future .
Concepts & Goals
To strengthen the core activities of "Lean Management" among Taiwan S-Team Elite League members. And these activities of cooperation & competition will be highly valued by other industries.
To upgrade Taiwan's fitness production, to stabilize quality control and to better divisional work distribution; thus, the whole fitness clusters will be solid.
To promote mutual observations, to increase learning activities and to share experiences.
To establish a brand image of S-Team's fitness made in Taiwan
To set the Central National Standard (CNS) of Fitness Equipment so that key model parts can be standardized and commonly used.
To upgrade the production technology with the vision of the future.
To encourage the participation of S-Team members, mutual evaluations among members will be carried out; thus, members can make substantial improvements.
To establish Taiwan as the global high-end fitness manufacturing and R&D hub.
Visions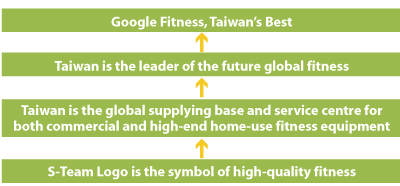 此文章還有以下語言版本: Chinese (Traditional) Chinese (Simplified)