Monthly Archives:
June 2013
On June 6, 2013, TSMA's President, Ms. Catherine Wang once again leads S-Team members to visit Johnon. Mr. Hsieh, as the Director of General Affairs, welcomes all participants and briefs the observation programmes. Next, Mr. Zhou acting as the General Manager on behalf of Johnson gives a formal welcome speech, expressing that S-Team members will be closer after numerous meetings. In the meantime, he also introduces Johnson's major teammates at different departments who could be of service. Hopefully, the observation activity will pull every participants more closely and share opinions with earh other.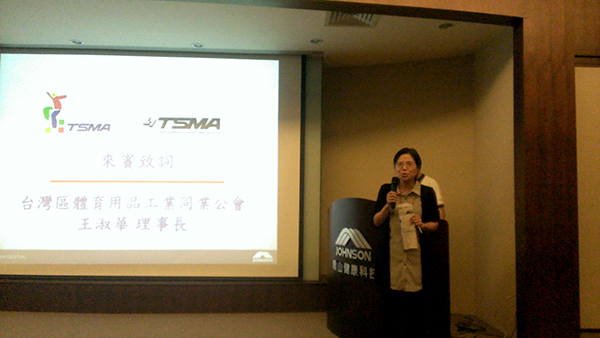 Ms. Catherine Wang, TSMA's President, gives a short speech before the observation activity at Johnson.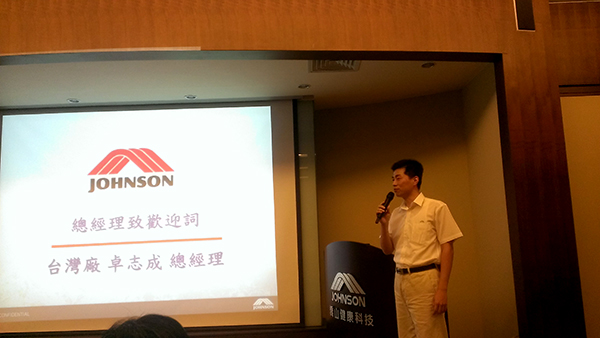 Mr. Zhou acting as the General Manager of Johnson Health Tech. gives a welcome speech.
Ms. Catherine Wang also express that S-Team has gone through the stage to build consensus. Every S-Team member shall buildup individual characterisitic. All members shall be open and try to learn from each other. S-Team, the major sporing-goods industrial alliance, needs innovation and cooperation. She express gratitude that Johnson could be so open to let members to observe its factories again and offers its expereinces and services. All participants can learn and improve their own factories or companies. In the observation activity, Johnson shares with all its progress and achievement of JPS Production. Moreover, Healthstream and Direction,the other 2 S-Team members, also share their management improvement, 5S arrangement and improvment cases. After their re-arrangement and cleanup, there is extra 30%~50% storage space. Most importantly, in the Q&A, the participants with questions receive answers from Johnson's teammates. The curtain of today's observation is soundly drawn down.